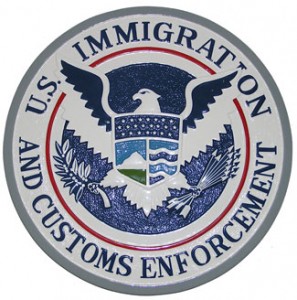 By Allan Lengel
ticklethewire.com
A former assistant special agent in charge for U.S. Immigration and Customs Enforcement (ICE) in California was arrested Friday on charges that he scammed the government by approving $582,000 in salary and benefits for his wife, who virtually did no work, the Los Angeles U.S. Attorney's Office announced.
Authorities said that Frank Eugene Johnston, 51, surrendered to special agents with ICE's Office of Professional Responsibility (OPR). He had retired in August 2009 after 31 years in federal law enforcement.
The indictment alleges that he approved the bogus salary for his wife Taryn Johnston while they were at ICE and its predecessor agency, the Immigration and Naturalization Service. She was also taken into custody on charges that she lied to ICE OPR investigators by saying she worked for the pay.
Taryn Johnston, 53, had worked as an immigration enforcement agent and then as an intelligence research specialist for the law enforcement agencies .
The indictment alleges that Frank Johnston became his wife's supervisor and in 2002 and assigned her to "an isolated INS sub-office, approximately six blocks away from the INS main office in Los Angeles."
Soon after that, she stopped going to work and Frank Johnston approved her time sheets, which "frequently also claimed premium pay for overtime and holiday hours," authorities charged.
Terri Tollefson, special agent in charge for the ICE Office of Professional Responsibility in Los Angeles, said in a statement: "As this indictment makes clear, ICE takes charges of employee misconduct seriously and we will aggressively investigate any allegations that arise. We hold our employees to the highest standards of professional and personal integrity. Guarding against illegal or unethical behavior is not an option; it is an obligation we have to the people we serve."
Posted: September 10th, 2010 under News Story.
Tags: frank eugene johston, ICE, OPR, taryn johnston
Comments: none