Ross Parker was chief of the criminal division in the U.S. Attorney's Office in Detroit for 8 years and worked as an AUSA for 28 in that office.
"The Secrets of Abu Ghraib Revealed—American Soldiers on Trial" by Christopher Graveline and Michael Clemens. The book is available at Amazon.com, barnesandnoble.com and Borders.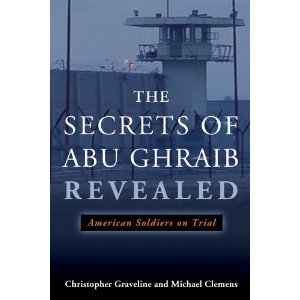 By Ross Parker
ticklethewire.com
An acquaintance from another country recently posed a question to me: How is it that such an idealistic country as America, whose people are willing to sacrifice so much, is so mistrusted and vilified around the world? We contribute nearly a trillion dollars a year, more than ten times the amount of any other country, as well as the lives of thousands of our best and brightest to attempt to keep world peace. But in the international press and the streets of the Middle East we are, increasingly, the Great Satan.
Historians for my children's children may be able to explain this complex irony. Hopefully, one of the texts they will study is The Secrets of Abu Ghraib Revealed by Christopher Graveline and Michael Clemens. The book presents a day-by-day factual account of one of the scandals of the Iraq War, one which scarred the image of America in a part of the world where we can ill afford such ignominy.
Graveline, now an assistant U.S. Attorney in Detroit, who was  a JAG prosecutor, and Clemens, a federal agent in Milwaukee, who was an Army investigator, were intimately involved in the eleven successful prosecutions of the military personnel who abused Iraqi detainees at the Baghdad prison in November and December of 2003. The authors present the facts with such detail and objectivity that readers can come to their own conclusions about the questions of cause, blame and responsibility.
In addition to using impeccable scholarship, the book explores the human dimensions of the tragedy and presents the reader with a fascinating and dramatic description of the people and scenes involved.
The heat, dust and danger of Baghdad, as well as the drama of the courtroom, are alive in its pages to keep the reader as engrossed as any good summer beach-read. Beyond the enjoyment of the read, the book presents a study of the rule of law and the rules of war, for generals and taxpayers, Presidents and policymakers, about the complexities of investing young American lives in trouble spots around the world. Its drama and message will appeal to a broad spectrum of readers.
Read more »
Posted: July 18th, 2010 under News Story.
Tags: Abu Ghraib, Christopher Graveline, Iraq, Michael Clemens, Middle East
Comments: none