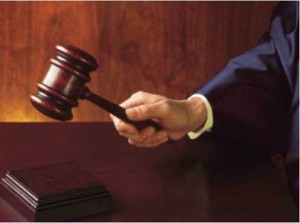 By Joseph Goldstein
Special to ProPublica
Judge Richard Owen of the U.S. District Court in Manhattan gathered a group of lawyers in his courtroom in 2007 to discuss the possible leak of sealed documents in a business case. As the hearing got under way, Owen, then 84, asked for someone to explain this newfangled mode of communication the lawyers kept mentioning — e-mail.
"It pops up in a machine in some administrative office, and is somebody there with a duty to take it around and give it to whoever it's named to?" he asked.
Some of the lawyers figured that Owen, whose chambers came with a mimeograph machine when he became a judge in 1973, was just behind the times. Others wondered if the judge's memory was failing him.
After all, the most famous case in his long career — the back-to-back trials of Silicon Valley investment banker Frank Quattrone — had revolved around a single e-mail. Yet he now acted as though this was the first he was hearing about it. "He didn't understand what was happening in his own courtroom," said one lawyer present that day.
Read more »
Posted: January 19th, 2011 under News Story.
Tags: alexander hamilton, alzheimers, bill dazey, david mandell, david patton, dementia, federal judges, jack weinstein, john shabaz, judge frank easterbrook, judge owens, president john f. kennedy, robert mcwilliams, senile
Comments: none